Utility Assistance
---
Welcome to Community Action utility assistance program for Washington County OR
Community Action can help you pay your electric, gas, water or bulk fuel bills. You do not have to be disconnected, or in a life threatening situation to get help. Just turn in our application provided in the link below with income and ID's, or request an application to be mailed to you. We strongly encourage you to apply online since that is the fastest way to get assistance. 
We offer online, email, or limited phone assistance to help you process your application.  Office appointments are limited.  
Community Action has exhausted all funding associated with Covid relief. 
Starting May 2, only households who have not received assistance from Community Action since 10/1/21 will be eligible. Exceptions are:
60 years or older
Have children 5 years old or younger living in household
Have a disability
If you don't meet the exceptions and you still need help click here for some ideas! 
If have not had assistance this program year, or you meet the exceptions, please continue by clicking on one of the following buttons.
Can't print and want an application mailed to you? CLICK HERE  Please allow 2 weeks for delivery.
If you need help filling out your application or have questions please call 503-615-0771
To qualify for assistance
To receive utility help you must live in Washington County Oregon and meet the following income guidelines.
Social security numbers are not required but may limit assistance if not provided.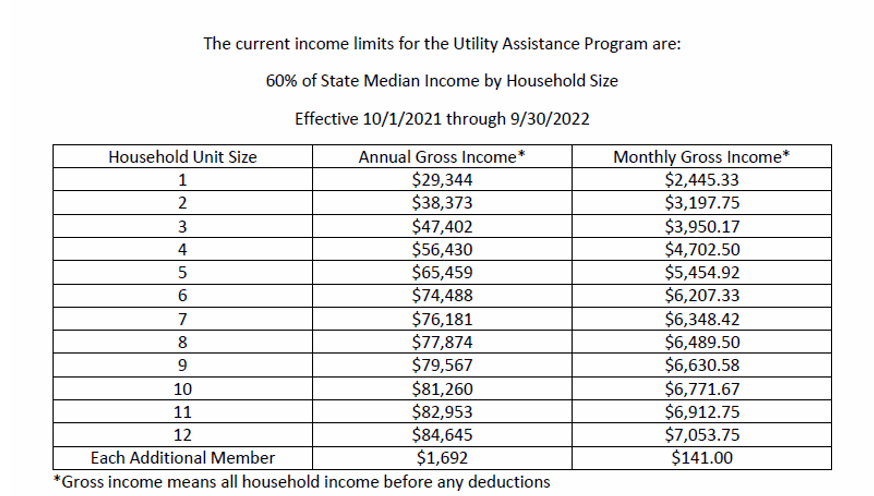 ---
Heating or Cooling System Does Not Work
For households with non-functioning heating or cooling equipment, with no other viable heating or cooling alternative in the home, please contact our Energy Conservation department.
---