Leda Garside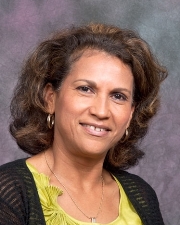 Leda Isabel Garside, RN, BSN, MBA, is a bilingual, bicultural Latina registered nurse, and is the Clinical Services Manager for ¡Salud! Services, an outreach program of the Tuality Healthcare Foundation in Hillsboro. The program provides services to vineyards workers and family members working and residing in the north Willamette Valley. Furthermore, the program assists in the delivery of other outreach services to the greater Latino community in Washington County.
Ms. Garside completed her nursing degree at the University of Alaska in Anchorage in 1983, and a Master of Business Administration, with an emphasis in Healthcare Management from Marylhurst University in 2011. Her extensive nursing career includes acute care, occupational health services, community outreach and public health nursing.
Her career interests include cultural competencies in health care, health promotion and prevention. She is passionate about improving access to health care services. Building a health care infrastructure and delivery system that is effective, integrated, affordable, and one that decreases duplication of services. She feels that a successful health system emphasizes and seeks ways to decrease barriers and inequities, addressing racial or ethnic disparities to create culturally responsive services. And, she also strongly believes that things can be accomplished when there is collaboration, cooperation and commitment to better serve the needs of the community, in particular the underserved and at risk populations.
Ms Garside is very active in many community outreach committees, coalitions and boards, including the Oregon Latino Health Coalition, The National Association of Hispanic Nurses, Oregon Public Health Association, and Sigma Theta Tau International Honor Society of Nursing. She also serves as board member of the Northwest Health Foundation, Community Action of Washington County, Oregon Public Broadcasting, and is currently serving a second term on the Oregon Health Services Commission. She is also past board member of the Susan G. Komen for the Cure Oregon and SW Washington Affiliate (2005 – 2011), and is currently member of the affiliate Community Grants Committee.