Washington County Severe Weather Shelter/Warming Centers
For homeless assistance resources and shelter openings in the metro area, dial 211 or 503-222-5555 to access the 211info Information and Referral System. Local shelter information is available online at http://www.co.washington.or.us/swsactivation.
---
Community Action Commemorates 50 Years of Creating Opportunities in America
A team of 10 Community Action staff joined 1100 colleagues from around the country at our nation's capitol to commemorate the 50th Anniversary of the signing of the Economic Opportunity Act (EOA) of 1964 and to recommit ourselves to furthering the Mission, the Promise and the Spirit of Community Action. This Act created the Office of Economic Opportunity and President Lyndon B. Johnson appointed Sargent Shriver, founder of the Peace Corp, as its first Director.  In this role, Mr. Shriver became the architect of the most unique federal-local partnership ever established in America.  This partnership created a community based approach to addressing poverty and called it Community Action.  Read all about it....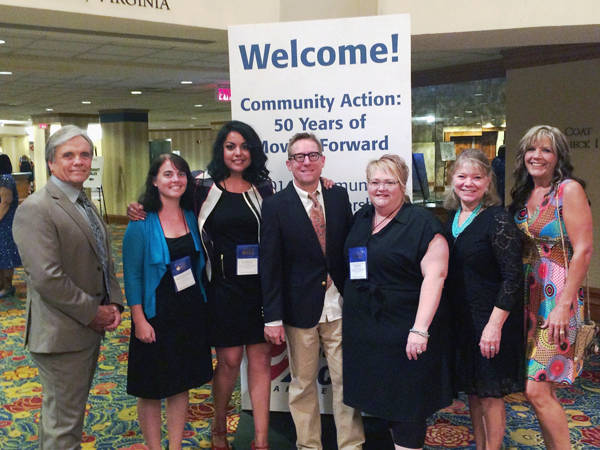 Hope, Help & Change
The cost of living in our communities exceeds what many working families can comfortably afford. Paychecks don't always stretch to cover basic needs, so many families are struggling to make ends meet. Even though more people are working and Oregon's minimum wage is among the nation's highest, lower wages are not covering the basic costs of living.
For over 49 years, Community Action has been offering hope, help and change for families in transition. Community Action programs promote the birth of healthy babies, reduce the potential for child abuse and neglect, increase children's chances for success in school, and improve the quality and accessibility of child care. We also offer energy assistance and help to prevent homelessness.
---
Thanks to our Key Community Supporters
---
Hours of Operation
Community Action is open Monday - Friday, 8:30am - 5:00pm
The Hillsboro Main Office is closed on the following days:
| | |
| --- | --- |
| New Years Day | Columbus Day |
| Martin Luther King Jr. Day | Veteran's Day |
| President's Day | Thanksgiving |
| Memorial Day | Day after Thanksgiving |
| Independence Day | Christmas Eve |
| Labor Day | Christmas Day |
Upcoming Events
---
---
Twitter Feed