NEWSLETTERS, TRAININGS & REGISTRATION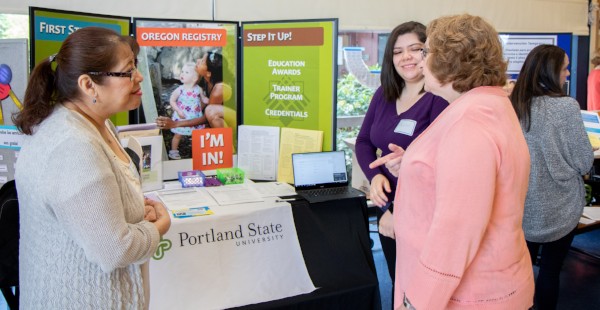 We offer a quarterly newsletter that includes both announcements and early childhood information, followed by a list of our scheduled trainings.
---
Mail or bring in registration form with cash or check, or call to pay with card:
Call: (971) 223-6100
CCR&R Attendance Policies
By registering for a training with CCR&R, you agree to our policies. The policies are as follows:
1. Participants must be registered prior to the training in order to be admitted. Individuals who are not registered that show up cannot attend.
2. To register you must complete the registration form. Please use one form per person. Mail, fax, email or bring in your form with full payment. We must receive your registration at least three days prior to the training to allow for processing, however register early as trainings fill up! When we receive your registrations and payment, we will confirm your trainings by email.
3. Cancellations must be given three days prior to the training in order to receive Training Bucks.
4. Refunds are not possible.
5. It is the attendee's responsibility to know the location, directions, date & time of the training. Note: not all trainings are at the same location.
6. Non-mobile nursing infants are the only children permitted in trainings.
7. To receive a training certificate, participants need to arrive on time and stay for the entire training. Participants arriving 15 minutes after the start time will not be admitted.
8. If a training is cancelled by CCR&R, Training Bucks will be given since refunds are not possible. CCR&R trainings are cancelled when local schools are closed due to inclement weather.