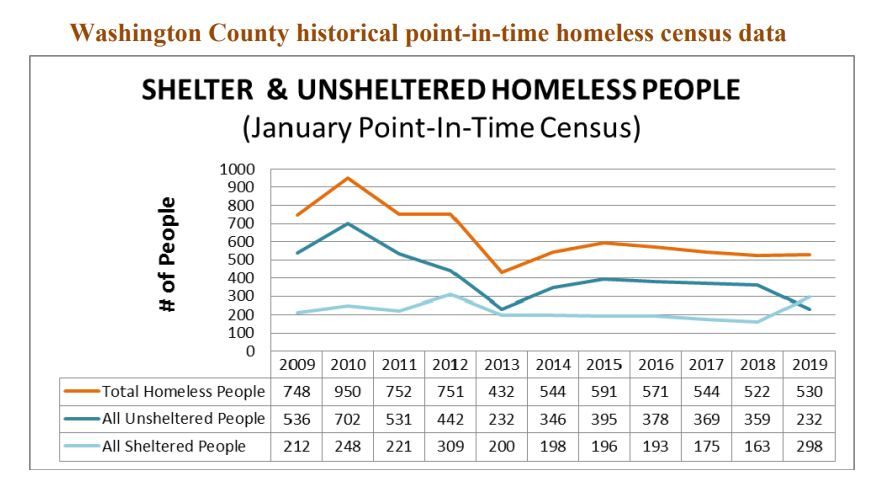 This past January, 131 volunteers from across Washington County participated the Point-in-Time Homeless Count. The Point-in-Time (PIT) Homeless Count is an annual census of every person in our community who is living without a home, either outside, in a place not meant for human habitation, or in emergency shelter. PIT volunteers conducted face-to-face interviews with homeless individuals and distributed warm clothing, hygiene supplies and outreach resources. This record number of volunteers enabled this year's PIT to be conducted in 4 cities on the same day – a first for Washington County – and ensured the accuracy of the count.
The purpose of the PIT Count is to gather data about homeless individuals (including demographic information) and report on the total number of people without a home. The snapshot of information that the PIT provides is used to inform federal housing policy decisions and is used to evaluate the effectiveness of current programs aimed at ending homelessness.
This year's census shows a slight increase (8 individuals) over the 2018 count.  This slight increase comes after a downward trend in the total number of homeless individuals in Washington County (530 people), that has continued over the past decade following its peak during the Great Recession. (The number of reported homeless in Washington County in 2010 was 950 people.) While the overall number of homeless individuals has been declining, the rate of homelessness among vulnerable populations has seen a steep rise.
Another trend this year was the increase in the number of sheltered versus unsheltered homeless individuals. This shift reflected the inclusion of temporary Severe Weather Shelters into the PIT Count, providing a more accurate picture of how many homeless individuals had a safe place to sleep during the week of the count.
Given the trends of this year's PIT Count we know that there is tremendous value in continuing to invest in strategies that address the root causes of homelessness such as eviction prevention, providing supportive services to vulnerable populations, and building more affordable housing. Planning for the 2020 PIT begins in later this summer and we hope to build upon our success with volunteer participation heading into 2020. Please stay tuned for updates and volunteer opportunities to support this important event.
Click here to read the 2019 PIT Summary and additional historical data.