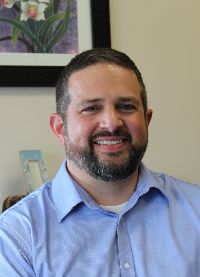 Following a rigorous, thorough executive search Community Action's Board of Directors is proud to announce the hiring of the organization's new Executive Director – Kemp Shuey. Kemp has been with Community Action for 4 ½ years, serving as the Director of Resource Development overseeing the private philanthropic and external communication efforts of the organization. He is succeeding Renée Bruce who is retiring after 29 years of service at Community Action, including the last four as Executive Director. Kemp assumes his new responsibilities on October 14.
"The board feels that Kemp's extensive knowledge of nonprofit organization systems and his management of diverse stakeholder relationships makes him the type of leader Community Action needs as it moves forward," says Nancy Ford, Community Action Board Chair.
Working in the local nonprofit sector for 15 years, Kemp came to Community Action from Make-A-Wish Oregon where he was responsible for overseeing the delivery of program and volunteer services. While at Community Action, he has driven an increase in philanthropic support from the community and sharpened the organization's communication strategy. He holds a Bachelor of Arts degree in Politics from Willamette University and has called Washington County home for the last 14 years.
According to current Executive Director Renée Bruce, "Leading Community Action is a big task, and in my time working with Kemp I know he has the thoughtfulness, vision, and passion to carry the work forward. I believe in his ability to steward our culture and challenge the organization to continue finding ways to grow and improve."
When asked for his thoughts on being selected Executive Director Kemp replied, "Community Action changes lives and in the process, we make our community a place where everyone has an opportunity to thrive. Our work is important, and our organization is needed. I feel a strong kinship with people who work at Community Action because they share the same commitment to service that I do. The opportunity to lead the organization is a tremendous privilege that I'm both excited for and humbled by."
Kemp steps into the Executive Director role on October 14, and Renée will stay on until November 1 to help with the transition.