Your support helped make Lynne's home safer, healthier, and energy efficient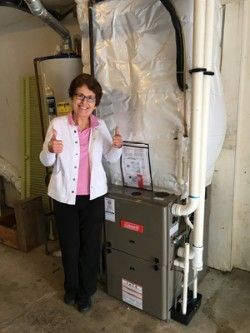 Lynne Yale is 73 years old and lives on a fixed income. She moved to Hillsboro 13 years ago. During the first winter in her Hillsboro house, she noticed that the furnace was not very effective. If she put the thermostat at 68, it never got very warm and her heating bills skyrocketed. She couldn't afford to buy and install a new furnace, but she also couldn't afford the high heating bills caused by her old inefficient system.
So she tried to make do. She kept her thermostat at 60. She closed all the vents and doors to other rooms in the house in an effort to get more heat into her living space. Lynne is an artist and works with her hands. Using her sewing skills, she made a fleece band for her ears and a fleece cover for her nose to wear during the day. She wore fingerless gloves as well. She also used a space heater to try to take the edge off of the cold.
Even with all of this creative problem solving, Lynne had difficulty. Over time, her fingertips became red and swollen. She went to the doctor and was diagnosed with pernio, a skin condition caused by cold exposure. Her doctor told her to turn up her heat, but she couldn't do that given her circumstances.
Because of supporters like you, Lynne sought help from our Energy Conservation program. Our Energy Auditors came out to Lynn's house and found multiple problems. Her heat system ducts were broken, twisted, and leaking. She had little insulation in her attic. She had no fans in the bathroom - a situation that is conducive to mold growth.
Because of your support, Community Action was able to make the duct repairs, install fans in the bathrooms, blow insulation into the attic, and insulate pipes and duct work. But the best news for Lynne was that they were able to provide and install a new furnace. She was thrilled. She had no idea that a new furnace was even a possibility with this program.
Lynne is so grateful to be comfortable in her own home after 13 years of suffering with the cold. She now keeps her thermostat at 68, and the temperature actually gets to 68 throughout the house. She has discarded her homemade fleece wear, her skin condition on her fingers has cleared up, and she can now work on her art in a healthy environment.
Lynne is very grateful, "They made me happier, safer, and healthier… and now I can have company over!"