Facing homelessness with her daughter, Stephanie found the help she needed at Community Action.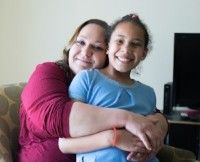 Two years ago, Stephanie, a single parent, found herself in an unimaginable situation. Despite having a full time job, Stephanie couldn't afford rent in Washington County. She and her six year old daughter, Teja, became homeless.
For six months they had to pack up their belongings and move every day – at times spending the night on a friend's couch or staying at a hotel. It got to the point where Teja would start crying when they pulled into the parking lot of a hotel. Sometimes Stephanie had to choose between getting to work on time and getting Teja to school that day. As a result Teja had a difficult time focusing and participating in class.
At the urging of a friend, Stephanie reached out to Community Action. Community Action operates one of the three family shelters that exist for all of Washington County. Stephanie recalls the huge sense of relief she felt when they moved into the family shelter. "When I explained to Teja that she could go down to the car, get all of her stuff and bring it all up – that it was just going to stay here until we found an apartment – I saw this little light bulb go off."
Though Stephanie had a stable work history, good credit, and no prior evictions, she couldn't find an apartment that she could afford. Nearly half of all Washington County renters are paying more than a third of their income toward housing costs. Stephanie reflects, "It just amazes me that you could work so hard and still not make it."
But because of your support, families like Stephanie's have somewhere to turn when the unimaginable happens. With the help of a housing advocate, Stephanie and Teja were able to move out of the shelter and into a two-bedroom apartment where the rent is based on Stephanie's income. With a new best friend across the street, Teja is settling into her new home and school. During this time, Teja's teachers and pediatrician discovered she has dyslexia.
Today, not only does Stephanie have a place to call home with her family, but she is able to give her daughter what she needs to learn, grow and be healthy.
"I honestly have no idea what we would have done if we hadn't found this program," said Stephanie. "Everybody should be able to at least have a place to come home to."
There are many other families in our community who are facing the uncertainty of homelessness. Success stories like Stephanie's show how your support of Community Action helps transform our communities into places everyone can call home.